Get MORE out of your Symposium experience!
Start your learning exploration a day early with this highly interactive, focused pre-conference workshop. This session is a great way to stay ahead of the curve by gaining access to information you won't find anywhere else. Plus, you'll earn while you learn. All pre-conference workshop attendees will earn an additional 3.5 SHRM PDCs/HRCI CEUs.
Space is limited to ensure small group interactions, so be sure to register for this pre-conference workshop early!
Managing Tough Conversations: 3-Step System to Positive, Proactive Solutions
Monday, August 20, 2018 | 8:00am – 12:00pm 
Recertification Credits: 3.5 SHRM PDCs/HRCI CEUs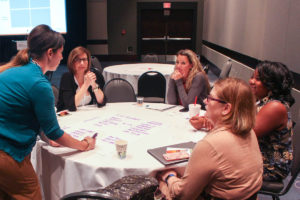 Why do people, teams, and companies get stuck sometimes? Blocks in Communication! That can lead to losses of productivity, profit, and trust.
This highly interactive half-day workshop provides complete materials and involves role plays, discussion, improvisational exercises, and next step challenges. Join your peers and get a road map to pull you through those difficult conversations. You'll become team members, invested in finding solutions, rather than two people on two sides of a table arguing.
Learning Objectives:
Confidence in dealing with difficult people and situations
Simple formats to record progress, decisions, and comments
3 steps that bring both people to a plan of action
SHRM BoCK:
Relationship Management
Communication
Business Acumen
Speaker: Brooke Cartus, Sales Director and Senior Facilitator, ImprovEdge
HOW TO REGISTER
This highly individualized session is not included in the conference registration.
Option 1) Bundle Pre-Conference & Symposium Registration
Symposium attendees will pay a discounted rate of $75.  Your discounted rate will be available for you to purchase when you register for your general Symposium admission.
Option 2) Register separately for Pre-Conference Workshop
If you cannot attend Symposium you can still attend the Pre-Conference workshop separately. Prices range from $129-$329.