SHRM-Atlanta is issuing an open call for enthusiastic, current SHRM-Atlanta members to serve as registration assistants, exhibitor liaisons and room monitors at this year's Symposium.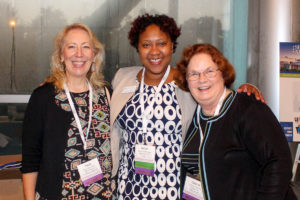 Volunteers help to make sure everything runs as smoothly as possible for all of our attendees, and we offer a discounted registration fee of $170!
VOLUNTEER DESCRIPTIONS
As a volunteer, you will be asked to contribute in one of the roles below, and may need to arrive early or provide assistance during the actual sessions, all while attending and learning alongside your peers.
Registration Assistants – arrive by 6:30 am, check-in and assist participants
Exhibitor Liaison – arrive by 5:30 am, assist exhibitors and sponsors during set-up
Room Monitors – tally and report the number of people in each session and act as 'mic runner' if needed for specific sessions
If you're interested in volunteering please click the button below to fill out a form
Deadline for Volunteer Applications is July 13.
Volunteers will be notified by July 31.
If you have questions please contact Joanne Singletary, SHRM-Atlanta Member Relations Director, at jsingletary@shrmatlanta.org.